The University of Novi Sad (UNS) was founded in 1960. It is the only state university in the Autonomous Province of Vojvodina, comprising 14 faculties and 3 research & developmental institutes. There are more than 50,000 students, 5,000 teaching and non-teaching staff, as well 300 study programmes at all three academic cycles. It is a comprehensive university covering all major fields of study and research. University of Novi Sad is rather active in the international collaboration field participating in both educational and research projects (ERASMUS +, TEMPUS, HORIZON 2020, FP7, EUREKA, COST, IPA, etc). When the number of TEMPUS projects in which the University has participated is concerned the University is the top leader both in the country and the region, where most of these projects were aiming at restructuring and reforming higher education processes, structures and programs.
UNS has become recognized as a reform-oriented university, developing intensively international cooperation with universities and other institutions in the area of higher education and having considerable experience in implementing academic mobility programs (Campus Europae, Erasmus Mundus Action 2, ERASMUS+ Key Action 1. etc). Due to its reputation as one of the leading internationally-oriented universities in Serbia, Prof. Dr. Miroslav Vesković, former Rector of UNS, has been given a key coordinating role for the Priority Area 7 within the EU Strategy for the Danube Region: Developing the Knowledge Society through Research, Education and Information Technologies which significantly contributed to more intensive cooperation with Danube Region universities through increased number of joint collaborations.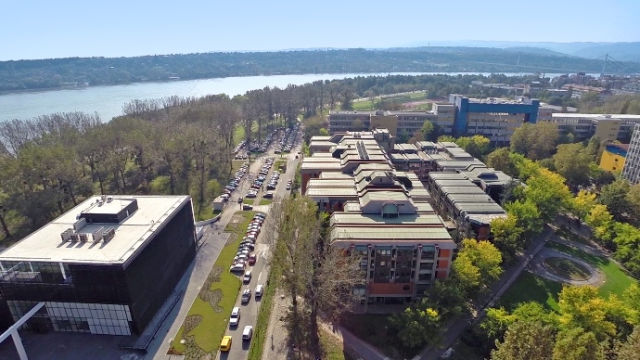 Recently the University of Novi Sad set a new strategic goal to become more visible in the international research arena and recognized as excellent University. As a starting point in reaching this goal, the first teaming project within HORIZON 2020 at University of Novi Sad was selected fro funding, initiated by Univerisity's BIOSENSE Institute Centre of Excellence for Advanced Technologies in Sustainable Agriculture and Food Security (ANTARES) becoming the only University in the region implementing this prestigious project.
UNS will participate in the realization of all work packages and activities on the project. Their main tasks will be those which form the core of the development packages:
upgrading educational infrastructure necessary for the wider integration of contemporary pedagogical principles and educational technologies in teaching and learning;
organisation of training courses for teaching staff in pedagogy and methodology of teaching, and in the pedagogical and technical aspect of the use of modern educational technologies;
designing new/modified master courses and continuing professional development courses in psychology, pedagogy, methodology of teaching, and technology enhanced learning in line with the modern European strategies;
the integration of online technologies into traditional courses, development of systems for electronic testing and formation of online labs.
Special assignment for UNS will be to lead WP4 (The formation of online learning environment).