The University of Korça was established on 7 January 1992, on the foundation of the Higher Agricultural Institute of Korça (1971-1992), composed of three faculties: Agriculture, Education and Economics. In 1994 it was given the name "Fan S. Noli" and in the same year the School of Nursing, was opened. The University "Fan S. Noli" of Korça has approximately 6,500 students. There are 160 full time teaching staff (50 per cent of whom hold titles and degrees). There are 145 part time teaching staff as well. The studies at this University are organised into full-time and part-time, in two levels: the first level and second level, in addition to the PhD level, based on the Bologna Declaration.
During the academic year 2013 the University of Korça prepared specialists in 29 programs of study. The University of Korça offers study courses in the fields of agriculture, economics, teaching and medicine. The Bologna Declaration is part of its daily program and they are properly respecting the Law of Higher Education, in this way integrating Korça's University into European Higher Education. The University has participated in various Tempus, ERASMUS projects covering such topics such as curriculum development through regional cooperation, improvement of teaching quality and curriculum reform, and it also has great experience in Cross Boarded (IPA) projects. It has had great number of students, staff and researchers exchange within the framework of BASILEUS I, II, III, IV, V.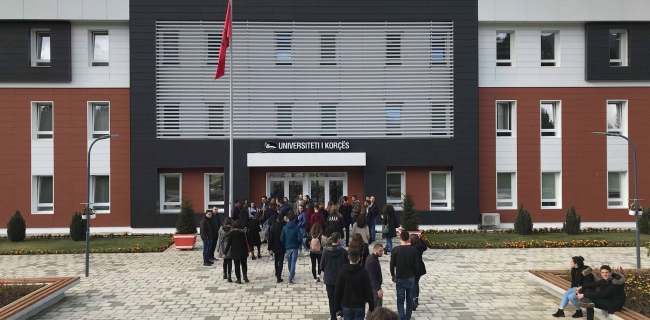 UNIKO will take part in the realization of all project tasks, and will be particularly active in the implementation of the main tasks of the project:
upgrading educational infrastructure necessary for the wider integration of contemporary pedagogical principles and educational technologies in teaching and learning;
organisation of training courses for teaching staff in pedagogy and methodology of teaching, and in the pedagogical and technical aspect of the use of modern educational technologies;
designing new/modified master courses and continuing professional development courses in psychology, pedagogy, methodology of teaching, and technology enhanced learning in line with the modern European strategies;
the integration of online technologies into traditional courses, development of systems for electronic testing and formation of online labs.